Historical Highlights of the Provisional Irish Republican Army​​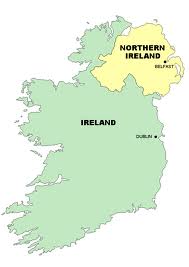 Image by Mandy Schaalma
Irish resistance to colonization from Britain dates back to the reign of King Henry VIII. The colonists were British Anglicans and Scottish Presbyterians who settled in six Catholic counties north east Ireland. Over time the Protestants became the majority population in these counties.
The minority Catholics in the area were subjected to cruelty and excluded from participation in government. The dispute to English rule continued into the 20th century and culminated with partition of Ireland into two counties in 1921. Northern Ireland consists of six counties with a Protestant majority. The Republic of Ireland included twenty-six counties with a Catholic majority.
​
Unorganized fighting continued in Northern Ireland until the Irish Republican Army, the first United Nations designated terrorist organization, was founded in 1969.
​December 1969, the Provisional Irish Republican Army created.
January 1972, Bloody Sunday - British troops kill 13 Roman Catholics in a Derry civil rights march.
March 1972, British government announces direct rule of Northern Ireland and abolishes the Northern Ireland parliament.
July 1972, Bloody Friday - IRA sets off 26 bombs in Belfast, killing 9 and injuring 130.
1974-75, Cease fire based on the belief the British government will withdraw from Northern Ireland.
March 1981, Bobby Sands begins hunger strike.
April 1981, Bobby Sands elected to a seat in British Parliament
May 1981, Bobby Sands dies from hunger strike. 100,000 attend funeral and violence erupts in Northern Ireland.
November 1985, Anglo-Irish Agreement creates the Inter-Governmental Conference to deal with political issues, security and legal matters in Northern Ireland.
May 1987, Eight IRA members gunned down when they attempt to bomb the Longhall Royal Ulster Constabulary station.
January 1988, Sinn Fein and the Social Democratic Labor Party begin talks for an all Ireland settlement.
January 1992, Eight Protestant construction workers killed by an IRA bomb.
April 1993, A fertilizer bomb explodes in London killing 1 and injuring 30 with $1 billion in damage.
October 1993, IRA detonates a bomb in a Belfast fish shop killing 10 and injuring 57.
August 1994, IRA announces military operations will end.
February 1996, IRA announces ceasefire will end. Bomb explodes in Canary Whart area killing 3 and injuring 100.
September 1997, IRA announces another ceasefire. Irish Free State and Sinn Fein begin formal negotiations.
January 1998, British Prime Minister Tony Blair announces judicial inquiry into 1972 killings in Derry.
April 1998, Good Friday Agreement forged.
May 1998, Referendum on the Good Friday Agreement voted on in Northern Ireland and the Irish Republic. 71% approve in Northern Ireland and 94% approve in the Irish Republic.
---